Fyxation Group Ride: Milwaukee's Lakefront by Fat Bike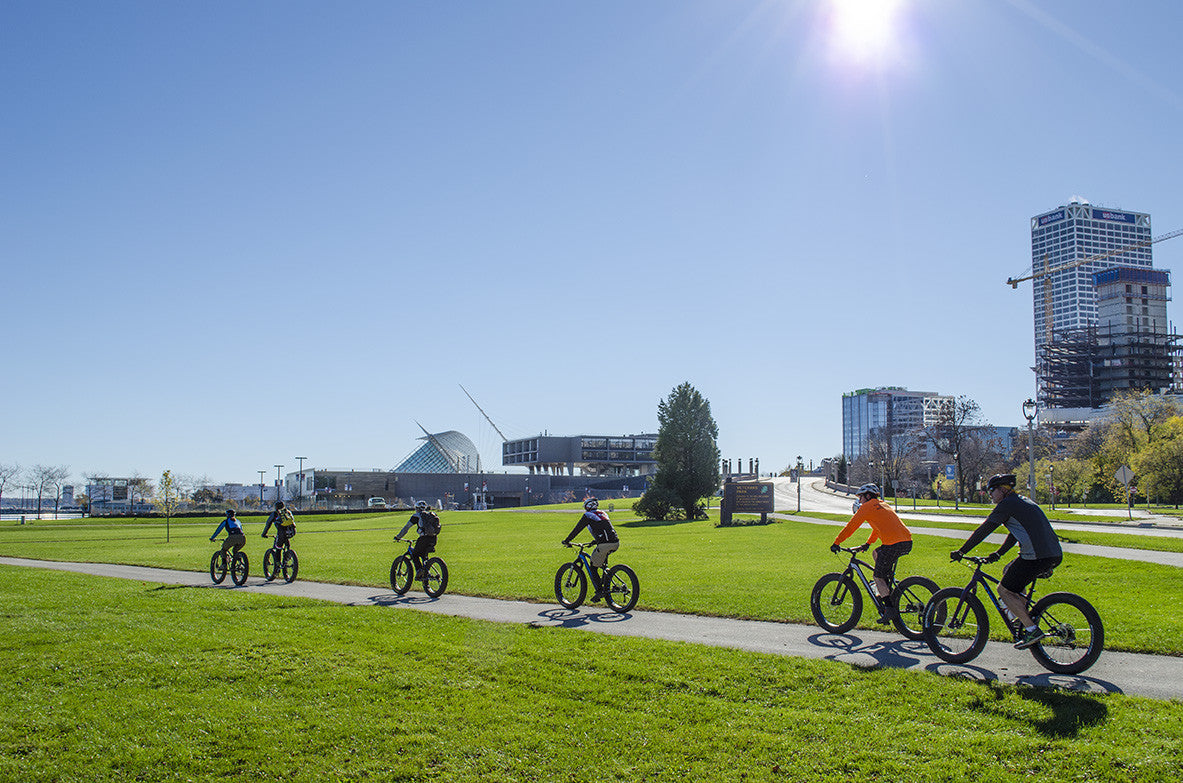 With fall in the air and winter teasing us with its colder temperatures, it felt like a good time to put out a call for a fat bike group ride.  And Milwaukee answered the call.  Over 40 people showed up with their fat bikes at Fyxation HQ shop for an afternoon ride to Lake Michigan.
Temperatures were perfect, the sun was shining and excitement was in the air.  With fat bike tires rolling, we took a short ride to catch the Oak Leaf Trail System which runs for over 100 miles throughout Milwaukee County to get to Milwaukee's Lakefront.  Along the way you could hear the roar of the fat tires and people laughing and having a good.
Our first destination was Veterans Park to ride along the shoreline of Lake Michigan and McKinley Marina.  Lake Michigan didn't disappoint and we were provided with great views of the lake and Milwaukee's skyline.  For some riders this was their first time taking the bike path and trails to the lakefront and they really enjoyed the riding and views Milwaukee had to offer.  
With a quick stop to let the group gather back together, we headed down the lakefront to Bradford Beach.  With the beach empty at this time of the year it was the perfect time to take the fat bikes to the sand and waters of Lake Michigan.

After playing at the beach it was time to head back to the Oak Leaf Trail and our final destination, Riverside Park and the Milwaukee Rotary Centennial Arboretum.  Both are located on the Milwaukee River which is a few blocks away from Fyxation.  We dropped off the Oak Leaf Trail and connected up with a gravel trail that runs along the river coming back up on the trails that lead up and through the Arboretum to the stone arch at the entrance.  
Finishing up the fat bike group ride we headed back to Fyxation HQ.  People continued to hang out and enjoy the beautiful fall day in the parking lot.  Many new friendships were made that day, all because of fat bikes.  More group rides are being planned with our next ride scheduled for December 13th.  We're looking forward to more fun and making more new friends so be sure and join us for the next ride!
---