2017 Tour de Chequamegon Redux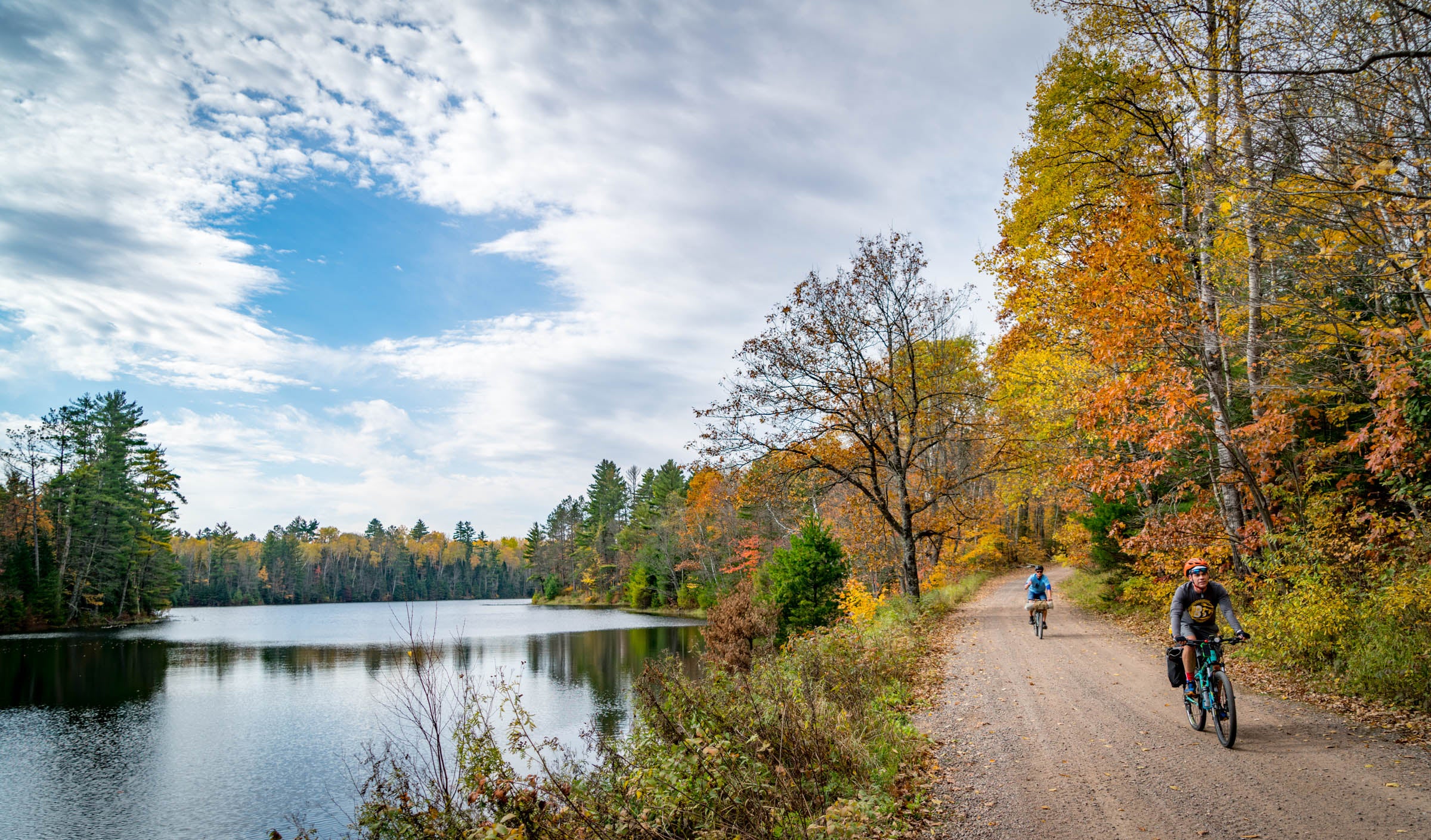 Written By: Dave Schlabowske - Wisconsin Bike Fed Deputy Director
It is hard for me to stop thinking about this year's Tour de Chequamegon, the 112 mile bikepacking weekend we just put on with Fyxation. On at least three occasions since we got back, I have cracked a beer and relived it looking through all 200 plus photos at the 2017 Gallery page. You can also download the photos and even order prints from the Bike Fed's Photoshelter Gallery of the same images.
Below are major reasons why I keep going back to it.
First, I finally saw the Clam Lake Elk! I've ridden up in the area dozens of times and hunted near the smaller Butternut herd, but I've never seen the elk. I always slow when I come to those elk crossing signs, hoping the beacons will flash, but they never have. Then I got up early Sunday morning to pay the camping fee for the night before (I forgot, oops), five elk were munching along the road just outside our campsite at Day Lake. They were completely unafraid of me, and I was able to take a bunch of photos (always carry your camera). It was still pretty dark, but I managed to make a handful of nice images before the sauntered off. I was so stoked!
Second, the initial weather reports were for three days of rain, but instead it only rained Saturday night after everyone had dinner. The fire was raging with a hot bed of coals and we had four 10×10 tents set up around it, so we kept the party going until 9:30 or so. By the time we woke up, the rain had stopped and we eventually got sunshine. In fact, we had sunshine every day and no precipitation while riding.
Because we managed to get all 20 guinea pigs back safely on our maiden trip last year, we decided to open the ride up to 40 people this year. By the time we added staff and medical support, we had 48 people on our trip! Aside from one minor misdirection, this year we managed to get all of them back happy and safe again! That was in part due to the great guides from Fyxation, and also thanks to the radios we brought with us this year. We were told by Air Communications that they might not work on all of our route, because "you guys are going to the middle of nowhere," which is the whole point of this trip! Thankfully they did work for the entire route, even if communications were a bit staticky in the far southeast part of the route.
Third, even with 48 people we had a really great group of riders with us. Nobody complained, everyone was in good spirits, up for a challenge, and a pleasure to guide through the Wisconsin Northwoods.  I also really enjoyed introducing so many people who had not bikepacked or ridden gravel before, to an activity I love in an area of Wisconsin I can't get enough of. It was wonderful to see so many of them share my enthusiasm for the Northwoods.
So a sincere thank you to all the riders for joining our second Tour de Chequamegon, and for supporting the Bike Fed at the same time.
Of course the trip would not have been possible without all the help from the stalwart crew from Fyxation and my Bike Fed coworker Tony Giron. I received plenty of complements from the riders about your professionalism, hard work and helpfulness. You guys all rocked, and I hope you enjoyed yourself a bit too.
It goes without saying, but the food from Chef Heather at the Brick House Cafewas delicious again. And thanks for flexing with us a bit and sticking around a little longer than planned Friday night Heather!
New this year we bought our beer from the Whistle Punk Craft Beer and Cafe in Stone Lake. Ian Finch, a Certified Cicerone®, CAMBA board member, and genuinely nice guy, not only picked a perfect mix of beer, but he gave us a really great deal on it. They always have some really interesting stuff on tap in Stone Lake, so it is worth stopping in when you are up in the area, even if it is an extra trip.
For the gluten free folks on our ride, and anyone who loves a good cocktail, we were extremely excited to have Soulboxer  as a sponsor! It doesn't get more Wisconsin than a brandy Old Fashioned in the Northwoods. These Old Fashioned cocktails are the real deal too, made with California brandy (or Kentucky bourbon), Angostora bitters, and real Door County cherries and oranges. Not only that, but I learned Doug from Soulboxer is a former track racer who spent time at the Brown Deer Velodrome!
Also new this year we had medical support along. I have no idea why I didn't think of it last year, but thank goodness we didn't need it. Turns out we didn't need it this year either, but what a relief to know Hans Erdman from the National Mountain Bike Patrol and Backcountry Trail Patrol was with us the entire trip. While we didn't test his extensive medical emergency expertise, his local knowledge from supporting so many other area events was invaluable. Thanks Hans!
Since this trip seems to be such a big hit, we have decided to bring it back again next year for the weekend of October 5th, 6th and 7th, with the optional Thursday night pre-ride gathering at the Sawmill Saloon in Seeley. We have registration is open here if you are a super early planner. We did increase the fee from $200 to $300 because we incurred some additional expenses this year, but that price should stay fixed in future years. I think after two runs, we have our budget pretty dialed in.
We did reduce the number of spots to 30. While we didn't have any major growing pains going from 20 to 40 people, we feel like 30 might be a sweet spot. If it sells out quickly, we might add 10 more spots, or we might just add a second ride instead.
Even if you weren't lucky enough to join us this year, can also order our sweet Tour de Chequamegon gear from Fyxation. The logo Fyxation's talented designer Tim Reddington created was inspired by this video of two elk fighting on County Road M, just outside Cable where our ride starts and finishes.
And last, for the adventurous crowd, I have connected the TdC route with few of my other Northwoods routes via some gravel roads I have not ridden to create a longer five-day loop that includes a bunch of nearby waterfalls. I don't have this one on the calendar yet, but I'm thinking of sometime early next spring. Stay tuned bikepackers…
---