Terrene Cake Eater Studded Fat Bike Tire Review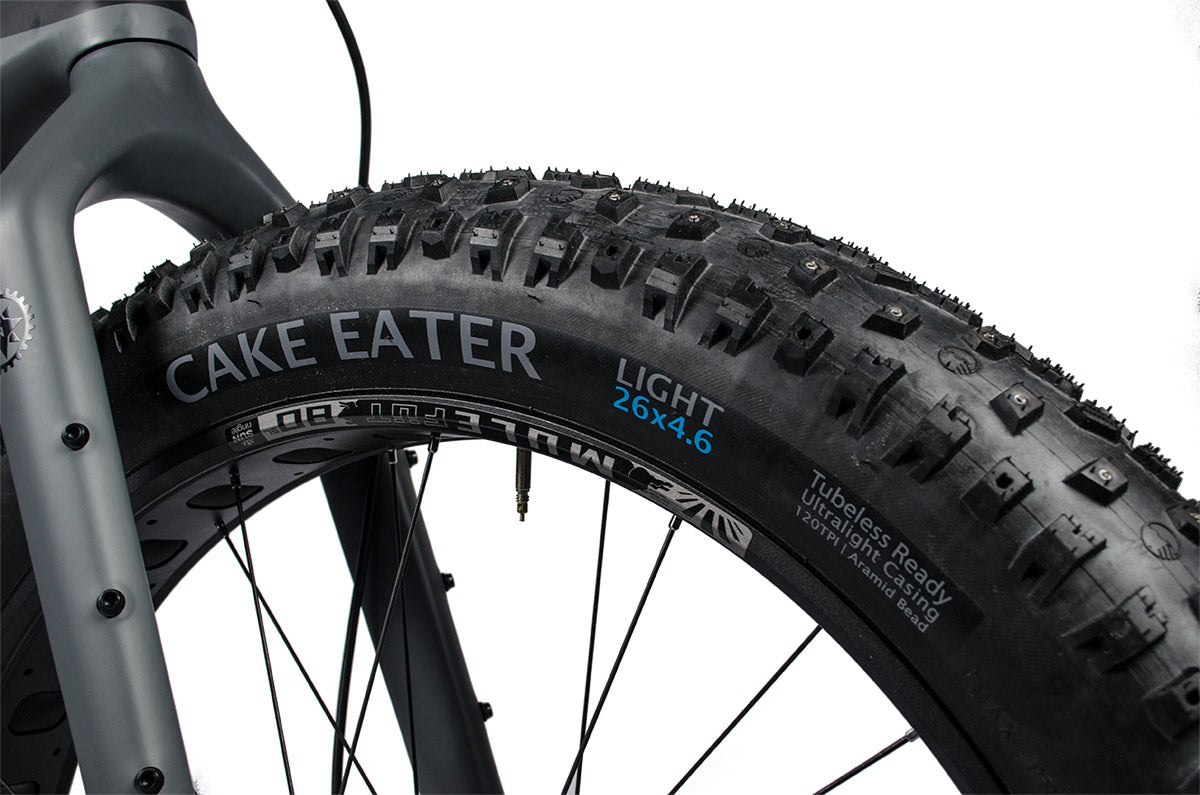 Terrene may be one of the newer tire brands on the scene, but they continue to turn out great tread patterns and feature packed tires. With the introduction of the Cake Eater studded fat bike tire, Terrene now has two solid options for your fat bike. We reviewed the Wazia tires last season, which has a larger tread profile and is available studded or studless. The lower profile of the Cake Eater will provide a fast rolling alternative to the Wazia. 
The snow is flying and Cake Eater's are now in stock!
The Cake Eater is available in 26x4.0", 26x4.6", 27.5x2.8" and  27.5x4.0" widths to fit most modern frames including the emerging 27.5 plus and fat categories. Each model is available in their standard or light versions. The standard version runs a 33TPI casing while the light version uses an ultralight 120TPI casing to shed grams and increase performance. The 33TPI version of the Cake Eater has the lowest studded fat bike tire price on the market at just $150, while the lighter 120TPI comes in at $200/tire.
The Cake Eater's weigh in at 1345g and 1529g for the 4.0" and 4.6" version. This compares very closely to the Dillinger studded tires from 45NRTH. To measure the width of the tires we used Sun-Ringle Mulefut 80SL rims, the same rims we used in our Dillnger Tire review.
Terrene Cake Eater vs 45NRTH Dillinger Studded Tires
| | | | |
| --- | --- | --- | --- |
| BRAND | MODEL | WIDTH | WIEGHT (g) |
| Terrene  | Cake Eater Light Studded 26x4.0" | 3.88" | 1329 |
| 45Nrth | Dillinger 4 Studded  | 3.86" | 1267 |
| Terrene | Cake Eater Light Studded 26x4.6" | 4.35" | 1529 |
| 45Nrth | Dillinger 5 Studded  | 4.33" | 1535 |
The Cake Eater is designed to be a fast rolling tire with low profile center treads and chunkier side tread. This should offer quick performance and some bite when the snow gets deeper. These tires are available in studded or stud-less versions. Stud kits and installation tool are available as well, so you can tune your tires or go fully studded at will. Studs fit into a pre-formed stud pocket using the tool from Terrene. Installation is similar to the process used to stud 45NRTH Dillinger tires. You can check out our video tutorial to see the process.
---