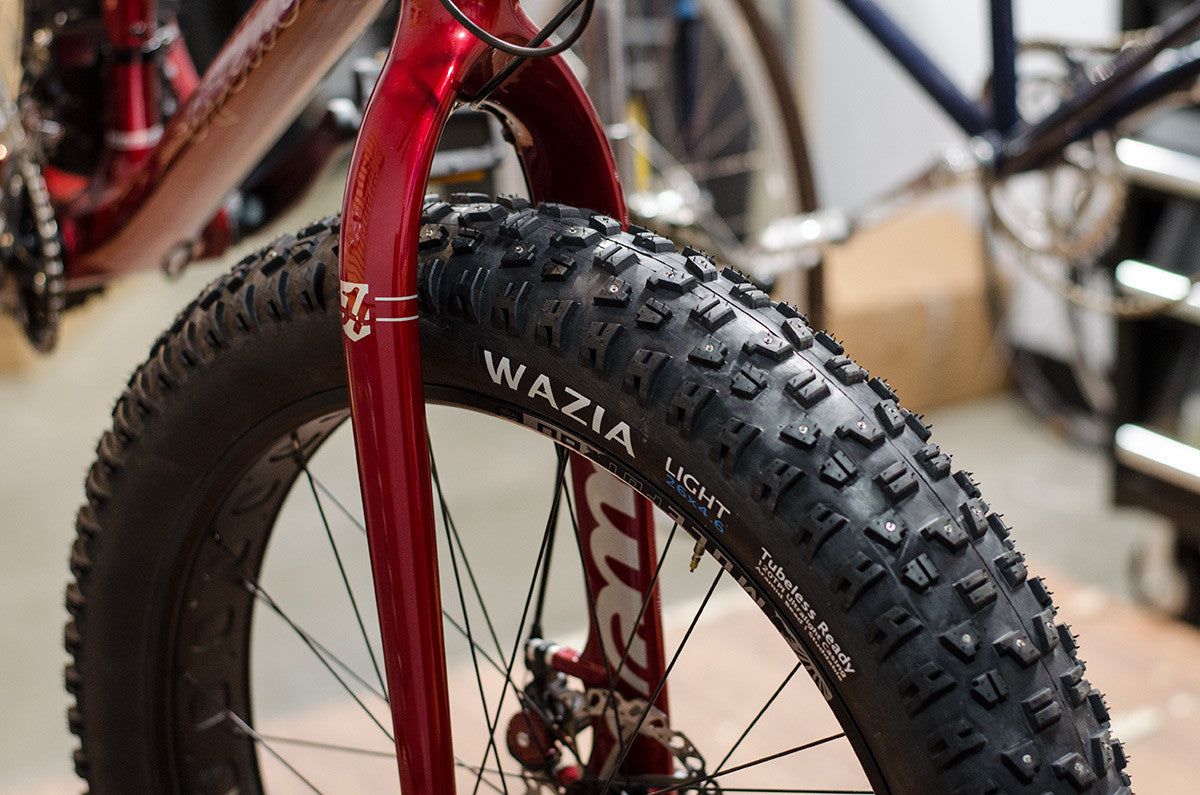 As the days turn shorter and the ground frozen, the thought of laying first tracks in fresh snow with my fat bike starts to dominate my days. Although we have yet to get snow that sticks this year, my fat bike is making it's transition from Summer trail bike to a purpose built snow machine. This means pulling off my 29+ wheels and converting back to fat, and as I've done for the past three season those wheels are finished off with studded tires.
Fat bike tires were dominated by Surly early on, and while the heavy bite of Knard used to do the trick more Winter riding options and safe riding at speed really became possible with the introduction of studded fat bike tires from Minnesota based 45Nrth. I was a convert when I rode my first set of Escalators and haven't looked back. While non-studded fat bike tire options have grown, the choices for studded tires have really been limited to 45Nrth Dillinger tires. That is until Terrene [te-reen, tuh-, ter-een] entered the scene with their Wazia line of studded fat bike tire.
The Terrene Wazia is available in 26x4.0" and 26x4.6" and in both tough, light and studded versions. With Winter around the corner, we opted to ride the 26x4.6" studded model. The block tread is meaty and is embedded with 154 low profile tungsten carbide studs. The low stud profile is designed to bite into ice but low enough to be fast on a frozen trail. 
We mounted the Wazia to Sun-Ringle's Mulefut 80SL rims.  The Mulefut is solid choice with an excellent bead lock, which makes tubeless setup a breeze, and a tough but light rim profile. The Wazia was easy to mount and popped into the bead lock on the Mulefut with a resounding 'snap'. Not unlike the Dillinger 5, the Wazia tire width will vary with rim width. On an 80mm wide Mulefut our tire measured around 4.25" when installed whereas the Dillinger 5 measured 4.3" on the same rim (Dillinger 5 review).
On the scale the Wazia came in and 1677g which puts it slightly heavier than the Dillinger 5 which weighed 1535g. While the Wazia weighs a bit more than the Dillinger it also has a much meatier tread which should offer more bite in soft conditions. The Wazia is priced below the DIllinger 5 with an MSRP of $210. 
The Wazia is a solid option when it comes to putting studded tires on your fat bike, once the snow starts flying and the lakes freeze over, we'll be posting our follow up review in some of Winter's toughest conditions. 
---